Cateran Trail Appeal: Love the Cateran Trail
Cateran's Common Wealth is all about celebrating and sustaining the things that belong to all of us – our common wealth as it is often called –  and one of our most cherished examples of common wealth here in Eastern Perthshire is the Cateran Trail. Our initiative has been totally inspired by its people, places and landscapes and so we'd like to ask you to help give the Cateran Trail a little love…
Steps on the Cateran Trail before and after repairs
Every year thousands of people visit the Trail, widely regarded as one of Scotland's Great Trails, but most don't realise that the entire Trail is maintained and improved through charitable donations and grants raised by the Perth & Kinross Countryside Trust (PKCT), who manage and maintain the entire route. PKCT's ambition is for the Cateran Trail to be among the best quality long-distance routes in Scotland. To achieve this, they are working to replace old gates and stiles, sort out drainage on all the really muddy bits, and make sure the path is in top condition.
An example of storm damage on the Cateran Trail requiring urgent work
However, all this takes money and our changing climate is making PKCT's job even harder as heavy rain and flooding add more and more work to an already long list of jobs to do. PKCT launched the Cateran Trail Appeal to give people who love the Trail as much as they do a way to help care for it.
A Cateran Trail stile upgraded to a self-closing gate
To contribute to this appeal, please head over to PKCT's website: www.pkct.org/appeal/love-cateran-trail or pick up a leaflet at our Exhibition in Alyth Museum – 'A Story of the Cateran Trail in 100 Objects'.
The Perthshire poet Jim C Mackintosh (who you can read a bit more about here), wrote a poem this year especially for the Cateran Yomp called Griz An Cateran. The Yomp (a military term for a long-distance march) takes place every year around the Cateran Trail and is organised by The Soldiers Charity.
Jim waiting to go on stage
They describe the event as "an epic adventure challenge. Teams of 3-6 people take on 64 miles (gold) in 24 hours across the rugged terrain of the Scottish wilderness. There is also a 36 (silver) or a 22 (bronze) mile option. Whatever distance you choose, the Yomp will test you to your limits both physically and mentally. It will also be an unforgettable weekend with your friends and colleagues, sharing the exhilarating experience and making memories to last a lifetime, whilst raising money for soldiers, veterans and their families."
Cateran's Common Wealth was delighted to be able to play a small part in the creation of this poem by suggesting to the Soldiers Charity that they commission Jim to write a poem to celebrate this magnificent event.
A packed tent listening to Jim's poem
Here's Jim sharing it for the first time on the 9th June, the evening before the Yomp, to a crowded registration tent of more than 800 people! You can also read the poem below.
Griz An Cateran
Raise your sights!
The mountains are awake, waiting, all belligerent,
arms folded tightly across their bracken chests.
They stare you down as if to say C'mon then!
Impress us! Let's see what you're all made of.
What is this vision of unplanned glories you offer to the Gods?
Word of your adventures has reached the Caterans
and Cam Ruadh relishes the bounty, the pickings
of luminous clad explorers who stray from their folly.
The snow riven burns of winter, expose raw flesh
of granite and of polished skin, blistered blue and
bleak through the peat bog knit, unravelling slow
to be mistaken for tears of mocking enthusiasm.
The rustle of silver birch at first deafening
then lost amidst your efforts to breathe, your
drum beat support mute in the deafening thud
of a befuddled heart pleading hard on your ribs.
Raise your sights!
because in the half lit grub the only voice you will hear
is your own in a sober whisper devoid of bravado snagged
on the branch where the crows will peck at your ambition
as if to say What were you thinking when you signed on?
Are you dreaming of a warm bed yet before Diarmid
reaches out from a gap in the thin, moss light where
his tomb elevates beyond the mizzle, to nod knowingly
and mark your passing by with a cold fingered cross
leading you to where the wind silvers your thoughts away
and fills the void with answers with no questions
like the grouse disturbed in a fusillade of wing snap
and its voice lands in your ears Go back Go back
Raise your sights!
for your story, your true cause needs to be told.
In all of you, that core of meaning must be exposed
so when the wind drops, and you sit by the Shee Water
doubting yourself, waiting for a fresh delivery of breath
for a moment, linger by its bustling mystery, reflecting
its intent with a gathering of words, and across it
a skim of the Cateran's history will dance quietly past
in and out of your brief yet growing respected presence
and the faces of your own warriors will appear about you.
The lines of their stories merging with the slow ripples
where your cupped hands break the surface but still clear:
their berets, their uniforms – their whole rig will become you.
Raise your sights!
For there it is. The answer to those mocking, muscle bound
mountains, whose only intention was to expose your fears,
and to echo the loose doubts escaping from your heads.
There it is, the only answer. You're here for your own warriors.
And then behind you, the bark of a puzzled old ewe
will break the respected hush with a call to arms.
All that you need think of is reduced to the lasting reflection
of faces strengthening you, urging you on to the finish.
The mountains will still mock, still posture but respectfully
and will seem less of a threat. Their stony arms unfolding,
lighter, almost welcoming. The scree path will tighten,
where the cold finger on your shoulder has let you go
and will guide you onwards with your back to the slopes
where Griz an Cateran fades irrelevant, surrendered where
this ancient noble landscape widens into a smile knowing
the tales of the brave in your heart will bring you safely home.
Jim C. Mackintosh
Andy Wightman Talk: The Commonty of Alyth Hill & Its Relevance Today
Andy Wightman, writer and researcher on land issues in Scotland and now an MSP for the Green Party gave a fascinating talk on the Commonty of Alyth Hill on the 28th April in Alyth.
As he has explained in his paper on the topic of his talk, "Commonties are areas of common land that were once extensive across Scotland. Typically, each parish would have genuine common land that was owned by no-one yet used by all the inhabitants of the parish. As feudalism spread across Scotland, these commons began to be regarded in law as the undivided common property of the feudal landowners in the parish (the heritors). Parliamentary Acts of the 17th century allowed commonties to be divided. The 1695 Act was the most commonly used and most of Scotland's commonties were divided according to its terms. However, many were not and survive to this day."
He began the story of Alyth's Commonty by framing the history of land ownership in Scotland referring to documentation from the middle ages that showed that at one time one-half of the entire area of Scotland was common land of one kind or another. Over the centuries the common lands have mostly disappeared as result various 'land grabs' by those in power at the time.
Map of the Commonty of Alyth Hill, Photo courtesy of Andy Wightman
Issues around commonty rights on Alyth Hill has been a live one for hundreds of years. As Andy has written, "The history of the Hill of Alyth is part of the history of three commonties. The Forest of Alyth commonty lay to the north of Alyth, was 7,946 acres in extent and was divided in 1796. The South Common of Alyth lay to the south of Alyth and was 364 acres in extent. The process of division of the South Common was initiated in 1780 and the North Common (Hill of Alyth) was added to this process in 1805 but dropped from the process in 1806. Eventually, the South Common was divided in 1858. Importantly, a number of properties within the town of Alyth received shares of the South Common since, as heritors (albeit modest ones), they were entitled to a share."
Alyth Folk marching up Toutie Street in July 1949, Photo, courtesy of Andy Wightman
Over the centuries, Townspeople have exercised their rights of access to the commonty. One of the most famous occasions was the 24th of July 1949 when according to a report in the Perthshire Advertiser "About 500 of them climbed the hill on Sunday and, working in small parties, cut divots around the bases of a 600 year stock fence, most of which collapsed. In this  way they exercised their right to 'fuel, feal and divot' (peat moss and turf)." The following week they further exercised their rights, this time by cutting the fence. They continued to assert their rights to the commonty including writing to the Secretary of State for Scotland.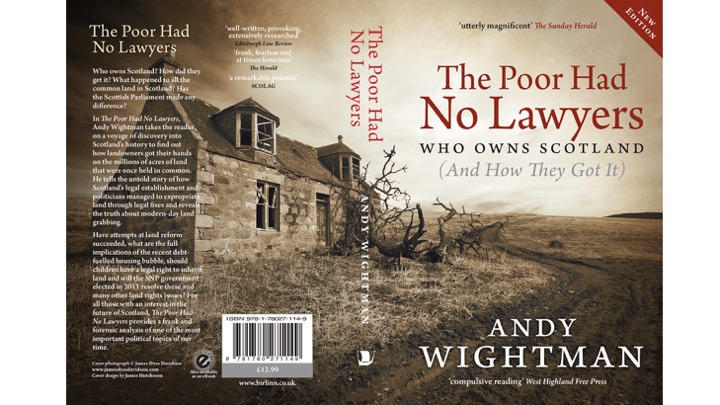 In his famous book 'The Poor Had No Lawyers" Andy writes "In their letter they complain of the inordinate expense of taking their case to court. They point out that 'Historians such as Mr This Johnston, Mr Cosmo Innes and others also warn us of the danger of  becoming subject to landowner made laws, supported in the past by lawyers who have lent their knowledge and abilities to the highest bidder.' They go on to point out that '(t)housands of acres of Common land in the surrounding district have been enclosed by landowners in the operation of the law of prescription simply because the people were afraid or couldn't afford to contest them."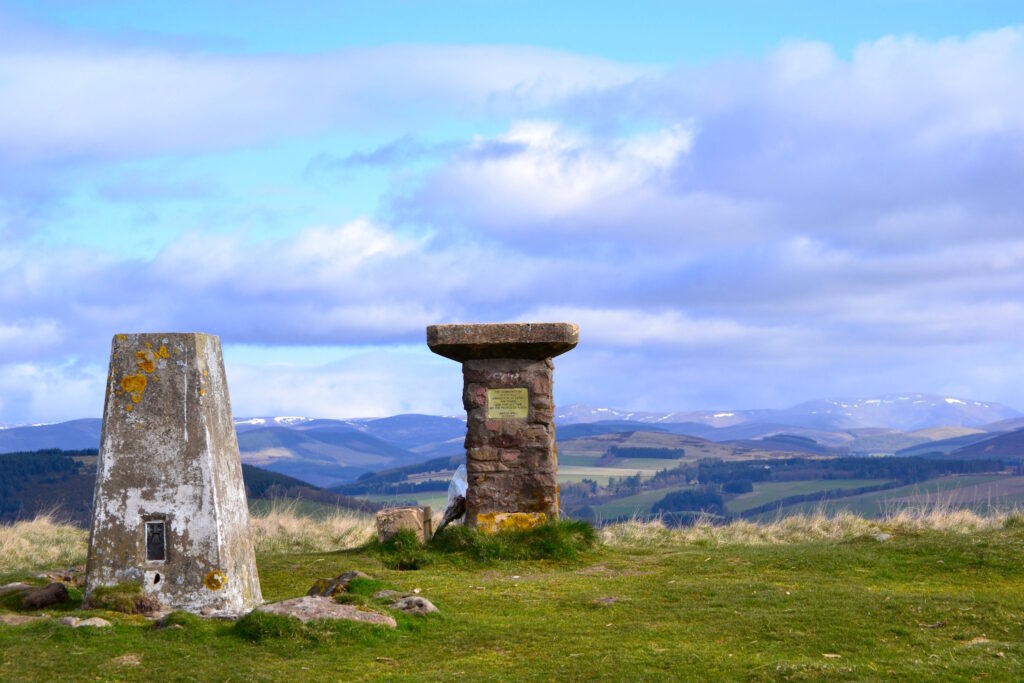 Photo of the Trig point and Plaque commemorating the Commonty at the top of Alyth Hill, Photo Clare Cooper
The Commonty of Alyth Hill is now owned by the Scottish Government and managed on their behalf by Forestry Commission Scotland. Andy ended his talk by saying that there was no reason why the people of Alyth could not use the new powers of Asset Transfer which had come into force in January 2017 and vehicles such as the Alyth Development Trust to reclaim the Commonty and thus protect it for future generations.
Legends of the Cateran Trail
Like many parts of Scotland, the Cateran Trail has a rich heritage of folktales, myths and legends. Glenshee takes its name from the Gaelic word sìth, signifying 'fairies'. Until the old tongue died out in the late 1800's the inhabitants were known as Sithichean a' Ghlinnshith – 'The Elves of Glenshee'.
Photo courtesy of Clare Cooper
The Green Lady is a traditional ghost in many Scottish homes and castles and Blairgowrie has its very own Green Lady o' Newton. Stories about white snakes can be found in many cultures and The White Serpent of Bamff near Alyth, tells the tale of how the Ramsays of Bamff acquired their land.
But two legends rooted in Glenshee and Alyth stand out in particular for they are part of the canon of the worlds great hero-tales, those of Finn mac Cumhaill and King Arthur.
Photo, courtesy of Perth & Kinross Heritage Trust
The historian Stuart McHardy has perhaps described the tale of Vanora, the Scottish name for Arthur's Queen Guinevere and her links to Alyth, most evocatively.
"About 18 miles north east of Perth lies the wee Strathmore village of Meigle. All too easily ignored by the traffic going to and from the North-East this little place contains real treasure for those interested in the ancient culture of Scotland.
The old school next to the kirk on the Dundee road has been made into a museum unlike any other. It contains a unique and beautiful collection of Pictish symbol stones most of which at one time stood in or near the kirkyard. The others are from the surrounding area. One of these stones has a legend about it that links it with one of the great European literary and mystical themes of all time — the story of Arthur and Guinevere.
The stone known as Vanora's stone was at one time part of a group of symbol stones that stood in the adjoining kirkyard on what is known as Vanora's Mound. The name Vanora is a variant of Guinevere and these stones are said to have formed a memorial on the grave of that faithless queen.
On the side of the stone bearing her name is a fine example of a Celtic cross and in the middle of the other side is a gowned figure being attacked by animals. The official guide book tells us that this is a representation of Daniel in the Lions' Den but local legend, unconcerned with the need to explain everything in our past as being of Christian origin, tells us otherwise.
Before the French and English romanticists took the Arthurian tales and turned them into florid fancies of chivalry and honour these stories were an integral part of the Celtic culture that existed throughout the British Isles. Like the cycle of hero-tales about Finn Mac Coul the original Arthurian legends were given local settings by the small communities that made up the population. Examples of this can be found in stories and place names from Scotland to the Scilly Isles. The ancient Celts often incorporated actual historical events into the great tales alongside older gods and goddesses given human form. This is how the historical Arthur of the 6th century became involved in the great mythological cycle of tales about his namesake.
The historical Arthur was probably not a king but the leader of a band of warriors who was made a leader of the common defence against the various invaders of his time. It was the accepted norm in all Celtic societies that the most able war chief would be given overall control of the army during a crisis, returning to his former position once the danger was past. The role of the actual king was more legalistic, ritualised and even spiritual.
The story of Vanora's Stone has her as the queen of Arthur, a 6th century king of Strathclyde. This kingdom stretched from Dumbarton south as far as Carlisle. Although the whole of the British Isles was at this time under almost permanent threat of invasion Arthur decided to go on a pilgrimage to Rome. This was to show his loyalty to the Roman church in its struggle against the independent Celtic church of that time. Before leaving he appointed his nephew Modred to act as his regent and rule in his place. Disaster was bound to follow.
Though the Celtic peoples would unite in the face of a common enemy their first loyalty was to their tribe and Modred was a Pict. He was bound to make the most of the opportunity presented to him by his uncle. No sooner had Arthur left the country than Modred seized the throne and seduced his aunt, Vanora. Whether she was a willing victim or had plotted the whole thing with Modred is unclear but soon they were ruling as man and wife with Pictish troops to enforce their rule.
It was only a matter of time before Arthur found out what had happened and he immediately headed home to raise his followers and have his revenge upon the faithless pair, The battle where Arthur and Modred met is said to have been at Camlaan, near Carlisle, and it is the site of an actual 6th century battle. True to the old myths Arthur was victorious but in killing Modred he sustained a mortal wound himself. Soon he died and with him went any faint hope Vanora might have treasured for merciful treatment.
While Modred's actions were understandable given the nature of the times Vanora had committed unforgivable sins. The Celtic peoples laid great stress on the ritual and spiritual importance of their rulers and Vanora had betrayed the most sacred trust. She was guilty of treason and adultery and her fate was a foregone conclusion — death.
The manner of her execution had to be decided and while the deliberations continued she was imprisoned at Barry Hill, near Alyth, just a few miles north of Meigle. Originally an Iron Age fort the site on Barry Hill was probably still in use in the 6th century and was as far from the Hollywood idea of an Arthurian castle as it is possible to be. At last Vanora was brought forth to hear her sentence and it must have surpassed even her wildest fears.
Her treachery to her husband, king and people was so bad that her death had to be as dishonourable as possible. She was to be torn to death by a pack of wild dogs. It is this grisly scene that is said to be portrayed on the stone.
Photo courtesy of Clare Cooper
After her gruesome death she was buried at Meigle with the strongest possible curses and anathema being heaped upon her grave in a manner reminiscent of Druidic ritual. More than twelve hundred years after her supposed burial these curses survive in the local belief that any young woman foolish enough to walk over Vanora's Mound will become sterile. The curse is still remembered."
Meanwhile, the Place Name researcher, Peter McNiven has found place-name evidence of the Finn mac Cumhaill legend in Glenshee that he believes is unprecedented in its density in Scotland. 
"The legends of Finn mac Cumhaill and his band of Finian warriors loom large in Glenshee…there are a number of place-names and two ballads in particular that seem to locate Glenshee into the Finian legends. One ballad, Laoidh Dhiarmaid (The Lay of Diarmaid), tells how Diarmaid, a colleague of Finn, dies on Ben Gulabin at the head of Glenshee, killed by a boar. At the bottom of Ben Gulabin, near Spittal of Glenshee, is a stone circle which has the name of Grave of Dhiarmaid. The ballad opens with the following lines:
This glen beside me is Glenshee,
where blackbirds and other birds sing sweetly;
often would the Fian run along this glen behind their hounds.
This glen below green Beann Ghulbainn,
whose knolls are the fairest under the sun,
not frequently were its streams red after hunts had been held by Fionn of the Fiana."
Photo courtesy of Clare Cooper
Dhiarmaid or Diarmuid as his name is sometimes spelled, was a brave and handsome warrior who fell in love with Finn's wife, Grainne. The King, hoping to get rid of Diarmiud, ordered him to kill a huge ferocious boar living in a ravine on Ben Gulabin (which means boar's snout). Diarmuid, seeing this as an opportunity to appease Finn, agreed, sought out the boar, fought and killed it. Finn then insisted that Diarmuid measure the length of the boar and he did this by using his feet along the boars back. During the measurement however, some of the spines of the boar's back entered his foot and the wounds became infected. Diarmuid died within 24 hours. There had been an antidote to the infection, but Finn had had the forethought to have poured it into the Shee water. Queen Graine on hearing of his death, killed herself by falling on an arrow (1)
"Another ballad while not explicitly set in Glenshee, seems to have been sufficiently popular with Gaels of the area for them to transfer the ballad from its original setting in Ireland to Perthshire. The ballad, Naonbhar do-chuadhmar fá choill ('Nine strong we set out into a wood'), is about a group of Fianna who set off on a quest to make 'some kind of object pertaining to dogs'. The band of warriors meet three groups of enemies – the Catheads, the Dogheads and a mysterious un-named band, whom they overcome and then succeed in their quest.
While the place-names in the ballad itself have been located in Ireland, the ballad must also have been acted out in Glenshee as there are a number of place names relating to it. In the middle of the ballad the Fianna raise their banners, 'symbols of their strength and authority', and they immediately defeat the Cathead, Dogheads and their comrades. In Glenshee is a hill called Creag nam Brataichean or 'crag of the banners'; one of the banners raised in the ballad is Lámh Dhearg, bratach mheic Rónáin '[Red Hand], the banner of Rónán's son' (Ronan is another character in the Finn stories). Lamh Dhearg is the name of a hill about 2.5 km north-east of Creag nam Brataichean. In many Irish legends and stories, the heads of the enemies are then severed as a sign of victory; Finegand, the farming hamlet in Glenshee is Fèith nan Ceann, meaning  'bog of the heads'."
(1) This version of the story taken from 'Explore the Cateran trail' by Chic Leven and Ken Roberts.
Creative technologist Rory Gianni and writer and film maker Shona Main are working with Producer of The Story Box, Alyth resident Marian Bruce, to make her vision a reality. Together with old timers, young people and children from the town's Primary School, they will transform a decommissioned red telephone box in the Town Square into a community-led audio art installation, which captures oral histories of the people of Alyth. In a similar way to Dr Who's 'Tardis', the iconic red telephone box will allow the user to hear stories from four different eras, including the most recent catastrophic flooding events in Alyth in July 2015. Rory and Shona spoke with Clare Cooper, Co-producer of the Cateran's Common Wealth initiative as they begin work on realising the project.
The Red Telephone Box in Alyth Town Square
"Tell us about where you came from and what the main influences have been on your lives and the kinds of creative practice you are involved in now?"
Rory: "Recently, I attended the Mozilla Festival in London, an event which describes itself as "The world's leading festival for the open internet movement". The festival covers journalism, science, activism, digital culture and more. Unlike the usual conferences with a few sessions at any one time, this event is comprised of several hundred workshops, discussions, and demonstrations.
Participation and diversity are encouraged. Anyone can submit a session proposal. It's not easy to describe unless you've experienced it yourself. The reason I point to it, is that it embodies the "hacker ethos" that has influenced and inspired me from a young age. If I had to sum it up, it's an ethos that's playful, creative, and sees the world as changeable."
Mozilla Festival 2016
Shona:"My parents had both had been climbers and lovers of the hills and whilst there were no mountains in Shetland where I grew up, I inherited their appreciation of nature, of having a relationship with the land and of feeling free.
But ours was also a hugely social world. Alongside the beauty of the sky and the beaches and the peat bog, Shetland has a great culture of community and intergenerational solidarity, so since childhood I have been endlessly fascinated by people, the way they speak, their ideas of themselves and the world.
As a teenager I moved to Dundee to train to be a journalist and wanted to change the world so studied law at Dundee University and was involved in local politics. However, I am not suited to the adversarial: I don't like the winner and loser culture and struggled to change anything on these kinds of platforms. So I moved back into journalism and then tried filmmaking and made the film Clavel (2014), about a Shetland crofter.
I am currently a practice-led doctoral candidate at Stirling University and Glasgow School of Art, exploring the nature and ethics of the relationship between documentarist and subject through the work of the filmmaker Jenny Gilbertson who filmed Shetland crofters in the 1930s then, in the 1970s -when she was in her 70s – the Inuit of Nunavut Canada. My research will take me to the communities she filmed in, in Shetland and the Arctic (scheduled for 2018) and will visually explore the dynamic of the relationships I will create with these communities."
Drumderg Wind farm from the Cateran Trail, Photo, Clare Cooper
"Both of you are involved in projects with 'bigger than self' values, projects that draw attention to how we could create a more sustainable human presence on earth and how we can develop greater compassion for each other and the natural world. What do you see are the greatest challenges and opportunities facing us all right now and how are you are choosing to engage with them through your work?"
Rory: "The 60-80% of fossil fuel reserves are unburnable if the world has a chance of not exceeding global warming of 2°C. These reserves represent trillions of dollars in the valuations of publicly listed companies, and by extension the investments, pensions, and saving funds the world over. Mark Carney, the Governor of the Bank of England, issued a warning about this last September. Unfortunately, it doesn't seem the world is waking up to these facts quickly enough.
If I had to predict, we'll see the bursting of a massive 'fossil-fuel bubble'. Governments around the world will need to intervene to prevent meltdown. I imagine it as the 21st century equivalent of what happened during the abolition of slavery, where vast sums of public money was used to compensate slave owners for the loss of their 'assets'. In our case, we'll see a global fossil-fuel asset bailout, but on orders of magnitude larger than the bailouts of 2008.
Given these challenges, it's startling to think the most brilliant minds and the vast computing power that's currently dedicated to getting people to click more adverts. That's why I got involved with organising Cleanweb events. Cleanweb is a network of digital innovators, designers, researchers, and developers looking at how to tackle sustainability problems. We get together to talk about any ideas, projects, or trends that might have potential to improve our environment.
I've recently started reading a lot more about commons-based peer production and the opportunities it holds for democratising and 'localising' manufacturing. The P2P Foundation has lots of material on the topic including ongoing projects such as the 'Open Source Ecology' project."
Tiree Tech Wave, Photo, Rory Gianni
Shona: "This is such a great question: I love the mentality behind it. I have been a buddhist since I was 19 and whilst I am very politically minded, my buddhist practice means I am more interested and persuaded by the importance of human revolution which needs to happen before and together with any sort of political revolution.
Human revolution is about changing ourselves so that our day-to-day interactions with others have more meaning and value. It's about developing a warmheartedness so you can locate and connect to others'. The greatest challenge we face today are the divisions in the world that are being created, multiplied and exploited – but how do we respond to this? I think it's about recognising that this isn't something that is just happening far away or on another level, but that this division happens in our own lives and communities – and sometimes we can be the divider.
There is a saying in buddhism 'cherish the person in front of you' – whoever they are. This is really hard because sometimes it feels impossible to even be in the same room as some folk. But person by person, by really endeavouring to fundamentally respect someone, to truly listen to them and to find and reveal your shared humanity, that is how divisions can be bridged, things can change and you can free yourself from the noise – the unhappy ways of thinking and being – that hinder your and others' happiness.
I find it really enriching to take time with people, all sorts of people. This is maybe why filmmaking suits me: you need to spend a lot of time with the person you are filming, listening to them, observing them, seeing past the surface aspects of their presentation and trying to connect to their true self."
Alyth's 15thc Pack Bridge, Photo, Clare Cooper
What you will both be doing to turn The Story Box into reality?
Rory: My role will be to handle the technology side of the project. In short that will involve programming a Raspberry-Pi (low power computer), and building an interface so visitors can select from the Story Box recordings.
At the start of the project we had a co-design session with Alyth residents where we imagined how the box might work using cardboard. We had some great contributions and in particular good consideration of accessibility issues e.g. how more than one person could experience the installation, and wheelchair access.
Young people's contributions are important to the project too. So I'll also be delivering sound and technology workshops at the primary school and youth partnership with Shona.
Shona: "I will be working with Rory with P7s of Alyth Primary School and the young people involved in the Alyth Youth Partnership. We will help them learn about listening, the science of sound and how to make sound record recordings of the world around them and of each other and themselves. These recordings will be used in the Story Box: when someone visits the Story Box, they will hear these young people's voices talking about their lives and their hopes for the future."
Fun and Games in the 1930's, Photo courtesy of the Laing Photographic Collection
"How would you like to see the kinds of creative digital technology you both work with used to help build more sustainable livelihoods in rural areas of Scotland like Eastern Perthshire?"
Rory: "I'd like to see more technology developed with rural contexts and needs in mind. Private and public investment, funding, and research is often urban-centric. It's one of a few biases that comes with the territory.
The 'Tiree Tech Wave', is an example of an event that aims to raise these issues. It's a 3-4 day technology retreat, held on the isle of Tiree twice a year. Last October the rural centre on the island was transformed into a full blown maker-space by a contingent from Cardiff University. The place was filled with 3D-scanners, 3D-printers, laser cutters, and students designing products for the rural centre.
Although the Tech Wave is mainly populated by visitors, it's open to everyone and it's run by Alan Dix, who lives on Tiree. As a result, links have been forged with local residents, the school, and the community trust."
Shona: "We live life so fast, and we're so busy and stressed that we forgot to take time to listen and talk to people. But it's only when you stop and pause (and sometimes life makes us) and look at and listen to the people around us you become aware of this real richness in our lives. When you start listening, be it the sound of a heron in the canal or the woman who works in the shop talking about her dad who died when she was young, this moment of concentration alters our perception of everything and has the effect of unblocking something, making us more able to hear and see and feel. Documenting someone and the environment they live in – like what the Storybox will do – means we can save something of this richness and celebrate it. The development and increasing accessibility of digital technology makes it possible for most people to find their own way of documenting their and others' lives and sharing it with the wider community. A community that understands that its history and its people is its greatest resource, is one that flourishes and prospers."
"In Deirdre's projects, materials are inseparable from stories of their making; she makes narratives of matter, narratives that matter. Handheld stories that weave words and wool, that value knitting and narration as ways of living more fully and more carefully; stories that are threaded through our world to keep them from passing from our hands and our hearts" Ruth Little
One of Scotland's foremost contemporary textile artists, Deirdre Nelson is our first 'artist in residence'. From March 2017 until the summer, she'll be living and working around the Cateran Trail as part of the Common Ground team. In this post she shares a little bit about herself, her work and what drives her and what she plans to do during her residency with us.
Deirdre (with Ruby, Napkin Project ), photo by Jim Wileman

Deirdre can you tell us a bit about your arts practice and how you became the artist you are?
I studied textiles at Glasgow School of Art. Although really interested in making, I was also very interested in working with communities and after graduating, worked in education and arts and health. I also developed my own arts practice alongside and later began to do residencies which integrated my making and work with communities.
Easterhouse Stitch, photo by Deirdre Nelson

You've been described as "a maker who embodies the principles of quiet activism making work that places craft as a central and productive force in society". How do the values you hold determine what you do?
"My core interest is in people and how we can value their diversity and their individual skills. My work tries to find ways to celebrate what individuals have to offer to the world around them – their special skills which are often overlooked. Celebrating the ordinary and the every-day, highlighting the overlooked, discovering the small things that are going on in people's lives and communities is what motivates me. Even though there are lots of challenges around us I'm always looking to find ways of being celebratory and positive.
I'm a nomad and love to travel. I'm also very curious, very interested in a lot of different things. People's lives and stories are endlessly interesting to me. I want to help tell their stories through my projects. Place matters to me. People's connection to place, both urban and rural, it's specificity, social history and environment is an enormously rich resource for me. Made in Easter House, which challenges stereotypes of the area and Shapinsay, which took patterns from the landscape of this Orkney Island and made them into cushions are both recent examples of how I work with place."
Stitching fields, Shapinsay, photo by Deirdre Nelson
I'm also quite mischievous! I like finding ways to mix things up so that you challenge people's idea of place – as I have done in the Easterhouse project. Finding ways to create quality projects that have minimum environmental impact is central to my work. I try to be thoughtful and consider every aspect of a project. This involves being careful about your choice of material, who you work with and designing the end of the project at the beginning so that you are really forcing yourself to think about the long term 'legacy' of your work. I'm also very committed to using traditional craft skills – needlework and knitting for example and finding ways of passing those skills on.
Making Moves Project, photo by Becky Matthews

How do you keep learning and developing your own artistic practice?
I'm constantly looking around at what is going on, especially in other professions and other disciplines. That's another way my curiosity kicks in! I think its really important to make sure you don't just stick with your own field or even your own age group – developing links with younger artists and younger professionals for example constantly nourishes my work. I've also found the ethos of the 'lean start-up' methodology very relevant for developing my practice – "pivot and persevere" – knowing when to change course very quickly if necessary and knowing when to persevere and hold fast to your direction of travel.
I've only been making the kind of work I do now for around 15 years, before that I taught and I think that that experience has been really helpful because it makes me think of the people I'm working with first and foremost, what I can teach, what skills I can pass on. And it's a virtuous circle because if you are interested in people and what skills they have you are bound to learn something from them too!
Why did Cateran's Common Wealth and the Common Ground project interest you?
I have always been interested in walking – walking is a great way of observing. One of the things I was going to do when I turned 50 (which was just recently) was to walk 50 miles – so walking is a big part of my daily life and the idea of observing and being inspired by a Trail like the Cateran Trail that covers such diversity of landscapes, towns and villages and people holds great interest for me. As a textile artist I'm also interested in Eastern Perthshire' rich textile heritage and the resurgence of local interest in this craft exemplified for example by Ashleigh Slater's amazing Cherries and Berries Tartan. I know that there are many other artists and crafts people living and working around the trail too and I'm looking forward to being inspired by them and all their creative activity as well! In fact I'd love to walk the Trail when I come up for my residency next year and invite different people to join me and I'm talking to the organisers to see how we might make this happen.
Berries & Cherries Tartan by Ashleigh Slater, photo by WarpWeftWeave

What will you be doing during your residency?
Essentially I'll be residence in the area for the Spring and early Summer of 2017, facilitating and leading the design of a new Cloth for the Cateran Trail in a project called Common Ground. This project is all about reconnecting people to the extraordinary heritage that is on their doorstep, which spans millennia – from the Neolithic Stone Age to the current day. The new aerial photography and place name research that is being done by Perth & Kinross Heritage Trust for the project is absolutely fascinating and will, I know, be a great source of inspiration for everyone involved in the design of the new Cloth.  My plan is to work with as many people as possible from local Schools and Community Groups in the area to draw on that inspiration to design a new Cloth – one that can be used in a whole variety of local settings and which will serve as a tribute to the generations of people stretching across thousands of year who have shaped the Cateran Trail area into what it is today. The Cloth we make together will be one way of 'celebrating and sustaining the things that belong to all of us' which is what the Cateran's Common Wealth project is all about and I can't wait to get started!
Tablecloths, Made in Easterhouse photo by Deirdre Nelson
Deirdre was interviewed by Clare Cooper, Co-Producer of Cateran's Common Wealth in Alyth in March 2016.
In addition to being Councillor for Blairgowrie & the Glens and involved in a host of other organisations and projects that promote outdoor activities and sports, Bob Ellis has played a key role in the story of the Cateran Trail. In this post he told Clare Cooper how it all began and why it holds such a special place in his heart.
Bob wearing Ashleigh Slater's Berries & Cherries tartan at its launch in 2015, Photo, Clare Cooper
Bob, you were one of the Founders of the Cateran Trail, can you tell us how it all started?
I was approached by a chap called Alan Dick in the summer of 1999, who had the idea of a long distance circular trail around East Perthshire. He was told that I was an authority on all local paths!
We poured over various maps and came up with a route. We then set out together, Alan driving his car and me running with a Dictaphone describing the route and what had to be done on it. Once this was done, we both approached all of the landowners, around 40 of them with a basic agreement form. I also contacted Perth & Kinross Countryside Trust of which I was a Trustee with a view to them looking at the prospect of overseeing the Trail, putting together a funding package and agreements with the landowners. It was then that we all came up with the name "The Cateran Trail" named after the infamous highland brigands who went about rustling cattle.
The Trail was properly way marked and opened and launched by John Swinney MP in the year 2000. One of the visions that we had was to boost the economy of all of those villages, B&B's and other attractions on or just off the Trail.
You've also been on the Steering Group for the Cateran's Common Wealth initiative right from the start – what excites you about it's vision and what do you hope its impact will be locally, nationally and internationally?
It was an honour and still is an honour to be asked to come onto the Steering Group of the Cateran's Common Wealth initiative right from the start. Anything at all that helped promote not just the Cateran Trail but also what we have in East Perthshire and West Angus in the way of all aspects of culture and adventure.
My vision would be that this project when up and running attracts locals and visitors alike from all over the world regardless of age, ability and profession to come and see what is on offer in this somewhat forgotten part of Perthshire. We get people from all over the world walking the Cateran Trail from South America to New Zealand and in between, we have written evidence of this because people sign the visitor's book in the Upper Lunch Hut which is a feature on the Trail and a welcome refuge in inclement weather. The Hut lies around 4 miles north of the hamlet of Enochdhu.
We get around 8,000 walkers a year on the Trail and this figure is rising year on year, I see this figure rising even more as we attract the more cultural people who will come and look at the cultural history and scenery, which lies on and around the Trail.
There is so much work that has already been put into this project by its' founder, Clare Cooper and from the word go, her own visions have attracted enthusiasm from other recruited members of the Steering Group and there is an eagerness from us all to conquer any obstructions put in our way and I suppose that is a vision from us all.
We've lost touch a bit with this notion of 'common wealth' – the things that belong to all of us – yet the Cateran Trail area has an abundance of it, from its spectacular landscapes, to its history and heritage, from its contemporary arts and culture to its strong sense of community, what aspects of that common wealth do you find yourself connecting with most and why?
My connections with the Trail are easy. I may say that it is my baby and it has realised all that I wanted it to do. It has boosted the economy throughout all of the land that the Trail passes through. It has brought communities together. People are making friends with each other. But I suppose the main thing would be that I have come to realise that others are coming up with their own pet projects and they are proving successful, like the Eco Camp at Blackwater, the Community Shop in Kirkmichael is doing really well, Clare's Cateran Common Wealth project has been born out of it. Seriously, I could connect with a whole amount of things, people, places and projects.
If you could only visit one spot on the Cateran Trail, where would it be?
I could say that my favourite spot is the whole of the Trail but being put on the spot, I would have to say the top of the hill overlooking Auchentaple Loch is the bit that I could sit at all day and night and just lose myself (with a bottle of a good malt of course).
Duncan McLaren and Kate Clayton are artists living in Blairgowrie. A writer and visual artist respectively, they are two of the 120 or so people and organisations who have identified themselves as working with arts and culture in the Cateran Trail locality during a recent mapping exercise and with whom the Cateran's Common Wealth initiative aims to work with closely. Here Duncan reflects on some of the common ground shared in his conversation with co-producer of Cateran's Common Wealth, Clare Cooper.
Clare came to Blairgowrie this morning and introduced Kate and I to a vision of how contemporary art could be introduced to our local area, a backyard I'm already beginning to think of as 'Cateran'.
The project's principles: integrity of place, taking an existing asset approach and emphasising bigger-than-self values, we could identify with. (Though in the past I've been slow at getting beyond the self, thanks to all the van Gogh I was exposed to in my youth!) And the project's themes: restore, reconnect and reperceive didn't just roll off the tongue, they immediately made sense to me.
It got us thinking and talking about many things, both during the meeting and after it, but before Clare left I promised I would send her a scan from a book called Perthshire Illustrated, which was printed in 1844 in the wake of Queen Victoria's love affair with Highland Scotland and her purchase of Balmoral. Here it is:
It came to mind because it seems to epitomize the common wealth, natural and cultural, here and now. The 200-foot gorge is spectacular; the site of Craighall Castle couldn't be more romantic. The view belongs to us all since the right to roam legislation was introduced in 2001. But the marvellous image itself, a steel engraving based on a painting, is part of our shared heritage too as it's long out of copyright.
In March, 2012, I went to the site of the image, took photographs and walked the cliff-top path towards the house. I wrote about Walter Scott's visit to the castle as a young man and his use of the experience in Waverley; I described the peregrine falcons that nest in the cliffs; and retold jewel-like anecdotes from my father about each of the last three generations of Rattrays, the family that owned the house from about 1500 to 2010.
Together, right to roam legislation and Andy Wightman's book, Who Owns Scotland?, inspired me to do the work I did that day. But I didn't put it on-line in 2012 as I didn't feel anybody would read it. Today, encouraged by the principles and themes that Clare communicated this morning, I have uploaded my 'on-Cateran, off-Cateran Trail' walk onto my website. And may it inspire a few readers to explore the natural and cultural wealth that our local area abounds with. Remember: restore, reconnect, reperceive. Walter Scott would have just loved it.
Blairgowrie, the largest town on the Cateran Trail, is the source of a great treasure of cultural 'common wealth' – The Laing Photographic Collection.
15,000 images taken between 1927 and 1993 from the business of D. Wilson Laing Photographers, Blairgowrie, was acquired by Perth Museum in 1997 and is the subject of an exhibition 'A Laing Exposure' at Alyth Museum.  You can watch this fabulous short introduction to the collection below:
When it was collected in 2008, the collection was divided between Perth Museum & Art Gallery, the Royal Commission on the Ancient and Historic Monuments Scotland and National Museums, Scotland. Perth Museum selected about 15,000 images and collected the eleven original photographer's ledgers together with prints and other objects. Most of the plates collected by Perth Museum & Art Gallery are of places in East Perthshire and were either commissioned by the public or local businesses or produced for the press by the Laings.
But Laings were also employed to document important national projects such as the building of the Forth and Tay Road Bridges and the construction of hydroelectric schemes. The Royal Commission on the Ancient and Historic Monuments, Scotland collected this contract work. National Museums, Scotland then selected material of particular relevance for the rest of Scotland.
Laings finally closed on 5 July, 1993 when David Constable Laing (David Mitchell Laing's grandson) and his wife Dorothy retired.
We hope you enjoy the film!
Interview with John Thackara
We were lucky enough to have sustainable design luminary John Thackara visit with us in July to begin talking about how, with his help, we might use design thinking and design expertise to realise our ambitions for Cateran's Common Wealth.
John Thackara with Marian Bruce, Sandra Wilson, Chris Lim and Andrew Barrie (and Hamish the dog) on Alyth Hill, Photo, Clare Cooper
In addition to showing him around the Cateran Trail and introducing him to some of our key partners, Clare Cooper took the opportunity to interview him about the concept of the commons and its importance.
John, why do you think so much attention is being paid to the notion of  'the commons' right now?
The commons is an idea, and a practice, that generates meaning and hope. Millions of people are busy working on projects that aim to meet the practical needs of people struggling to navigate these precarious times, projects that are focusing on promoting social, environmental and economic changes that will help create a more liveable world – but a lot of this work feels fragmented. We've been lacking an umbrella concept, a coordinating idea, to make sense of the work we do as individuals in the swarm. The Commons is that umbrella idea. Commoning gives shared meaning to the emerging 'leave things better' politics that otherwise lacks a name. It's the opposite of the drive to turn everything into money,
Do you have your own favourite definition of 'common wealth'?
I'm nervous of definitions; they cause endless disputes and also tend to freeze an idea in time. But I like the way Silke Helfrich talks about the commons as "all the things that we inherit from past generations that enable our livelihoods'. Seen through that lens, the commons can include land, watersheds, biodiversity, common knowledge, software, skills, or public buildings and spaces. The important thing is that the commons are a form of wealth that a community looks after, through the generations. The idea embodies a commitment to 'leave things better' rather than extract value from them as quickly as possible. They are the opposite of the impulse to monetise everything. And because the commons, as an idea, affirms our codependency with living systems and the biosphere, it also represents the new politics we've all been looking for to replace the industrial growth economy we have now. 

None of this is new, by the way. The commons goes back an awfully long way. It describes the way communities managed shared land in Medieval Europe – but earlier history, too, is filled with examples of communities managing common resources sustainably. Examples of water being shared as a commons date back 8,000 years.
When you spoke in Scotland last year (2013) you said that you believed that the arts had a transformative role, especially now, given the enormous challenges we face around climate change, resource scarcity and social injustice – can you expand a bit on that belief?

Twenty years ago, Susan Sontag posed a tricky question: "Why is it that, even when we are  exposed to  shocking stories and images, nothing seems to change?" Sontag was writing about war photography, but her words apply equally to environmental communications. We've been exposed, for 30 years, to a stream of shocking maps, images, and visualizations – 'doomer porn', as some call it. But passively watching this gloomy news has produced more guilt and denial than transformational change. What we need are positive triggers that reawaken a joyful sense of being at home in the natural world. This is where art and storytelling come in. They can tweak our interest, redirect our attention, and start conversations in ways that hectoring communications never do. As you've reminded us, Clare, Marcel Poust memorably said "The real act of discovery consists not in finding new lands, but in seeing with new eyes".
Do rural communities have a special role in helping all of us respond to these challenges?
Rural communities have an important role to play in many ways. One that I am particularly interested in is how they can act as hosts of new kinds of 'active travel' – from Wwoofing to Fibershedding – that involve an exchange of value, not just the purchase of a package. Making new connections between cities and their surrounding rural areas, and bringing in new internet platforms and Peer-To-Peer business models, combines tourism development with creative place making. New forms of guided tour and learning journeys are emerging that take people to novel destinations that are only now being described: watersheds, bioregions, ecomuseums, food routes, industrial heritage sites. I'm not just talking about recuperative weekend trips to nature, here: People are looking for activities that contribute in a tangible way. This trend is enabled by new business models such as Peer-2-Peer travel and the sharing economy. Think AirBNB: it didn't exist a few years ago but is now the world's largest hotel.
Our Cateran's Common Wealth project is just beginning. When you visited with us in July (2014) what struck you most about what you saw and experienced in relation to what we want to try and achieve?


Many of the ingredients are already present: Buildings, biodiversity, landscapes – and above all, passionate, knowledgeable and committed people. It's a lot of fun here! The next phase is to explore ways to connect and leverage these individual assets in ways that help them do better. In this, we're pushing on an open door: there's a growing demand for forest awareness, ecological camping, biodiversity trails and suchlike. I'm super-confident the project can act as a catalyst that inspires residents and visitors alike to revalue our 'common wealth'.
Are other communities around the world trying to do something similar to us?
I have collected dozens of examples! In Slovenia, I met some bee fanatics who've adapted their ancient tradition of Pilgrim Tours to create hiking routes that take people to centres of Slovene apiculture: mead breweries, gingerbread workshops, apitherapy clinics.  On the Andaman Islands, in Thailand, guests spend time replanting mangrove forests.  In Rajasthan, the Arna-Jharna Museum, founded by one of India's leading folklorists and oral historians, celebrates the open spaces of the desert, including its flora and fauna, as part of a larger holistic exploration of the museum as a place of learning.
We're planning to deepen our work with you in the near future, can you explain what you are going to try and help us do?
My main contribution is threefold. First, I'll be a kind of talent-scout who turns up in town and celebrates the unique but neglected assets that are easy for local people to take for granted. To this end, I'll be chivvying you to make short films and paper artefacts that enable others to learn about the potential of the area. My second input will be to help you turn "would-be-nice" ideas into service prototypes that can be the basis of sustainable livelihoods in the longer term. My third contribution will be to connect you with innovators in other places who will be keen to share knowledge and experiences.
Thanks John! Looking forward to working with you and your network very much in the coming months.
(We'll be running two Innovation Labs with John later in the autumn of 2014 which we hope will help us start thinking very creatively about the kinds of impact we want Cateran's Common Wealth to have and we'll be publicising those very soon on the Events page.)