At last we are able to go public on the fact that after 16 months of solid fundraising we have achieved full funding for our first three projects!
Looking toward Glenshee from the Cateran Trail at the top of Alyth Hill, Photo, Clare Cooper
Ironically, given the Brexit decision, the last piece of our funding has come from the Perth & Kinross rural LEADER programme, an EU funded rural development programme which aims to support individuals, organisations and communities in rural Perth and Kinross to be stronger, more confident and inclusive to lead or contribute to local economic and community development. It is a big chunk of money, almost £42,000 and we would not have been able to go ahead at all without it.
We are now in a position to deliver three very exciting projects all drawing on the Cateran Trail's extraordinarily rich common wealth of heritage and all of which will now take place in 2017, serendipitously, the Year of History, Heritage and Archaeology here in Scotland.
Each project will offer local people and visitors new ways of interpreting and learning about the area's rich local heritage:
The Story of the Cateran Trail in 100 Objects will launch in November this year with a campaign to crowdsource ideas for 100 objects that tell the story of the Trail's history right up until the present day. Folk who live and work around the Trail and those who visit will be asked to propose people, places and landscapes and objects associated with them, that they believe tell an important part of the story of this part of Scotland. The final 100 Objects will be chosen by a Community panel Chaired by Councillor Bob Ellis and will form the basis of a new booklet, an Exhibition at Alyth Museum, new itineraries aimed at visitors the area and a set of teaching resources for local Primary Schools.
New aerial photography of the Trail and new place name research will act as inspiration for the second project called Common Ground. An artist residency led by one of Scotland's foremost contemporary textile artists, Deirdre Nelson, will offer local people of all ages the opportunity to take part in workshops to design a new Cateran Cloth using the photos and place names. These workshops will culminate in the exhibition of the newly designed cloth and its sources of inspiration at the A.K. Bell Library in Perth and at other venues around the Cateran Trail. Perth & Kinross Heritage Trust, who are undertaking the aerial photography and place name research, will also be leading a series of walks and talks about the area's rich archaeological and cultural heritage in local venues.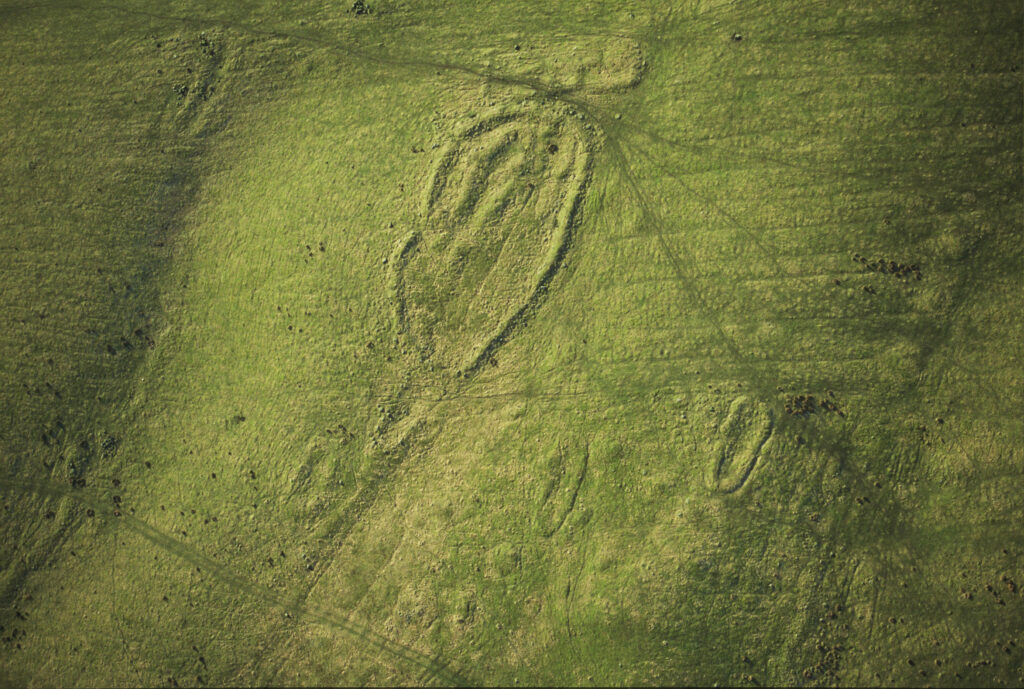 Wester Peathaugh, Glen Isla, from the air, photo courtesy of Perth & Kinross Heritage Trust
The Story Box will transform a decommissioned red telephone box into a community-led audio art installation in Alyth Town Square, which captures oral histories of the people of Alyth. In a similar way to Dr Who's 'Tardis', the iconic red telephone box will allow the user to hear stories from four different eras, including the most recent catastrophic flooding events in Alyth in July 2015.
Altogether just over £180,000 has been raised to deliver these first three projects from the Heritage Lottery Fund, the Gannochy Trust, Creative Scotland, the Postcode Lottery Trust, the Drumderg Fund, Perth & Kinross Council, the St James Place Foundation, Scotmid and LEADER.

Alyth Flower Girls, photo courtesy of the Laing Photographic Collection
Clare Cooper and Donna Holford Lovell co-producers of the Cateran's Common Wealth initiative said: "It has been an incredibly long haul raising the funding to get these first three projects off the ground, but we got there in the end thanks especially to Councillor Ian Miller and his inward investment team and the rural Perth & Kinross LEADER programme. The whole initiative is a remarkable collaboration between local cultural and creative practitioners, voluntary and community organisations, business people and civic leaders and some of Tayside's leading environmental and cultural organisations and we're proud to be part of it. This area's common wealth of culture, archaeology history and heritage involves an astonishing diversity of people, places and landscapes and we hope that as many local people as possible will want to get involved and participate."
Councillor Bob Ellis said: "The Cateran Trail is jam-packed with hidden gems. This project aims to make our many cultural, archaeological and historical treasures much more visible both to those of us who live and work here and to the visitors who we want to encourage to come here."
Morag Watson, Manager of the Perth & Kinross Countryside Trust who are responsible for managing the Cateran Trail said: "We are delighted to have been part of the big team of people and organisations across Tayside and beyond who have come together to make the Cateran's Common Wealth initiative happen. The Cateran Trail is a huge asset for Perthshire and for Scotland and we want to encourage more activities around the Trail that attract visitors, benefit local businesses and that local people can enjoy."
Dave Strachan, Manager of the Perth & Kinross Heritage Trust said: "Glenshee and Strathardle contain some of Scotland's best-preserved upland relic landscapes. Dating from throughout prehistory and the medieval period to modern times, they capture the story of human interaction with the land. The CCW project offers exciting new ways to celebrate the remarkable ancient landscapes of the area and Perth and Kinross Heritage Trust is delighted to contribute."